Rebellion Developments; the studio behind Strange Brigade have long been a soft spot for me. I still remember my first time like it was yesterday, it was dark, not the best looking thing I could afford but it was well within my budget, best of all it was explosively fun and entirely unforgettable. That first experience with Rebellion was the game Judge Dredd: Dredd vs Death and beside the Sly Stallone movie was my first real experience with The Law. Now anytime I see a game with that all too familiar red Rebellion logo I am instantly down to clown because one always wishes to relive their first time right?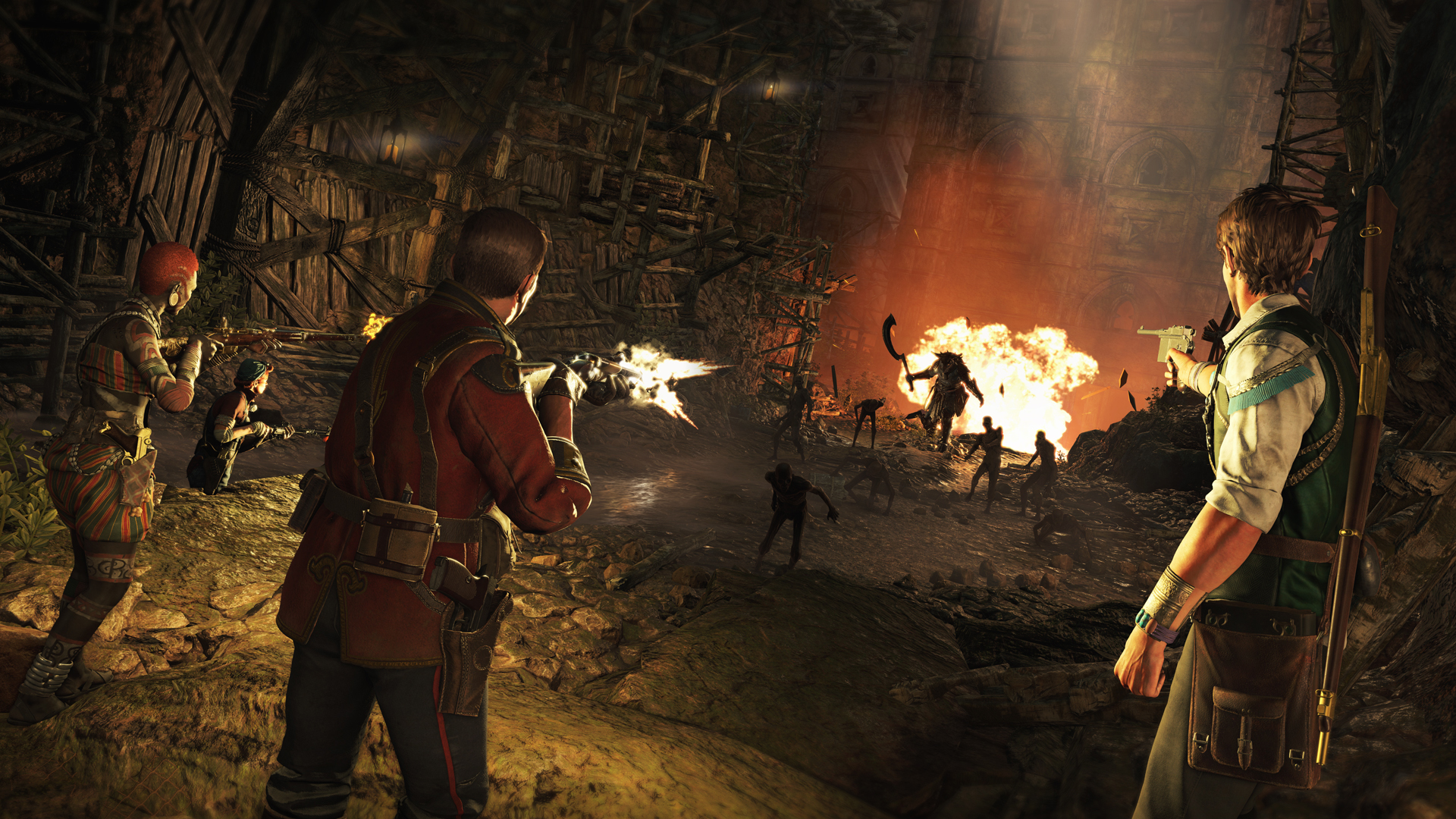 Rebellion's latest offering is Strange Brigade a third person co-op shooter with a heavy emphasis on co-op. In the game you play as one of four British Secret Service Operatives, The Northern Redhead Gracie Braithwaite who likes her weapons to pack a punch, The Maasai Warrior Nalangu Rushida who is all about hitting as many times as she can, The Oxford Scholar Archimedes de Quincy who is the jack of all trades in weaponry and finally The Soldier of Fortune Frank Fairburne who plays at long range but always hits hard.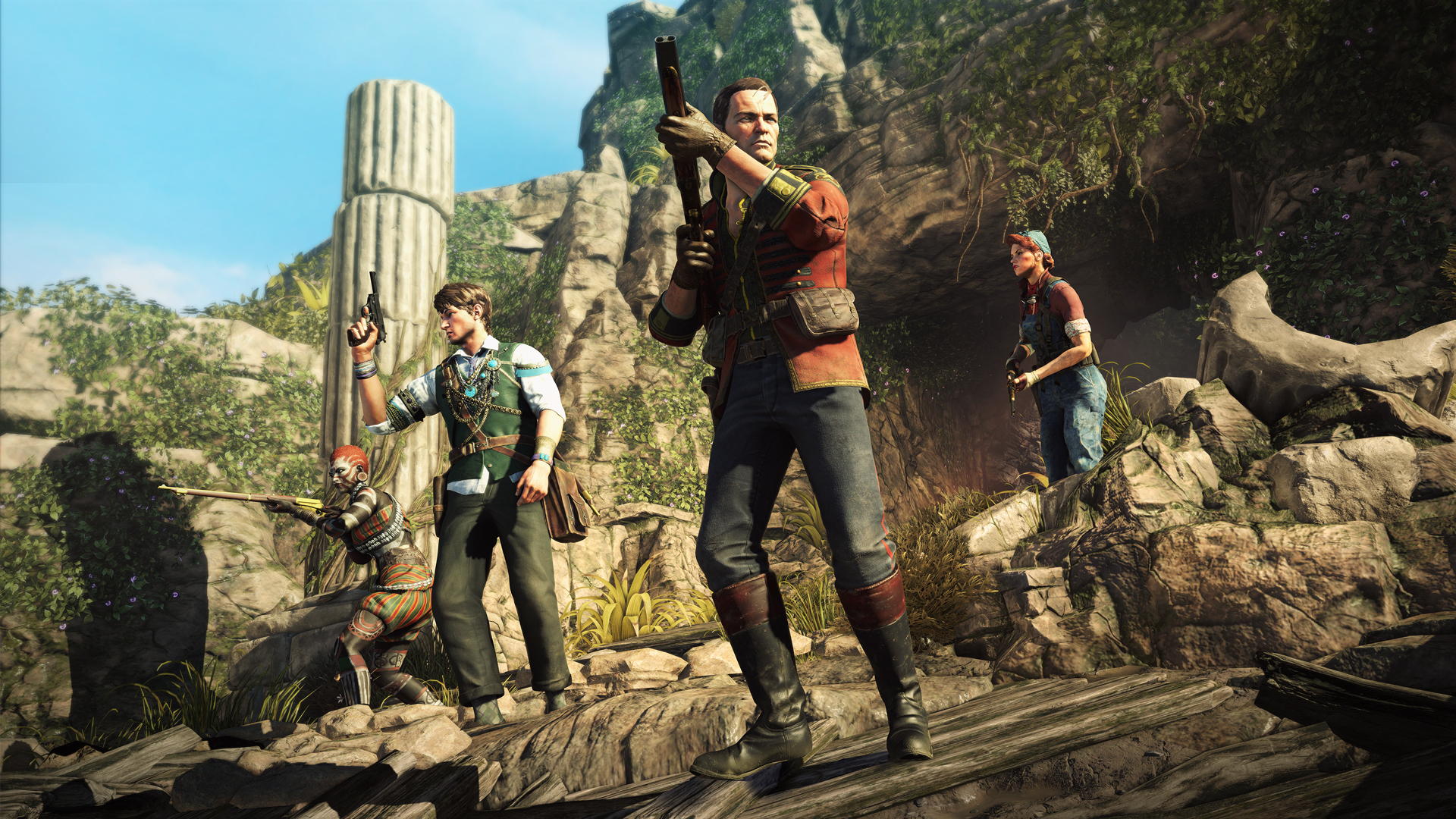 Strange Brigade keeps its gameplay moderately simple as less is sometimes more, after picking your character and whatever load out you want for them you are off to the races. Rebellion have an older school approach to the game often leaving me feeling like I was playing the Egypt level of Timesplitters. The entire game is presented as an 1930's pulp adventure, voice overs are over the top, jokes are cheesy, cutscenes are in black and white even the ones revealing things mid level and it all works to create a game that feels original in that regard.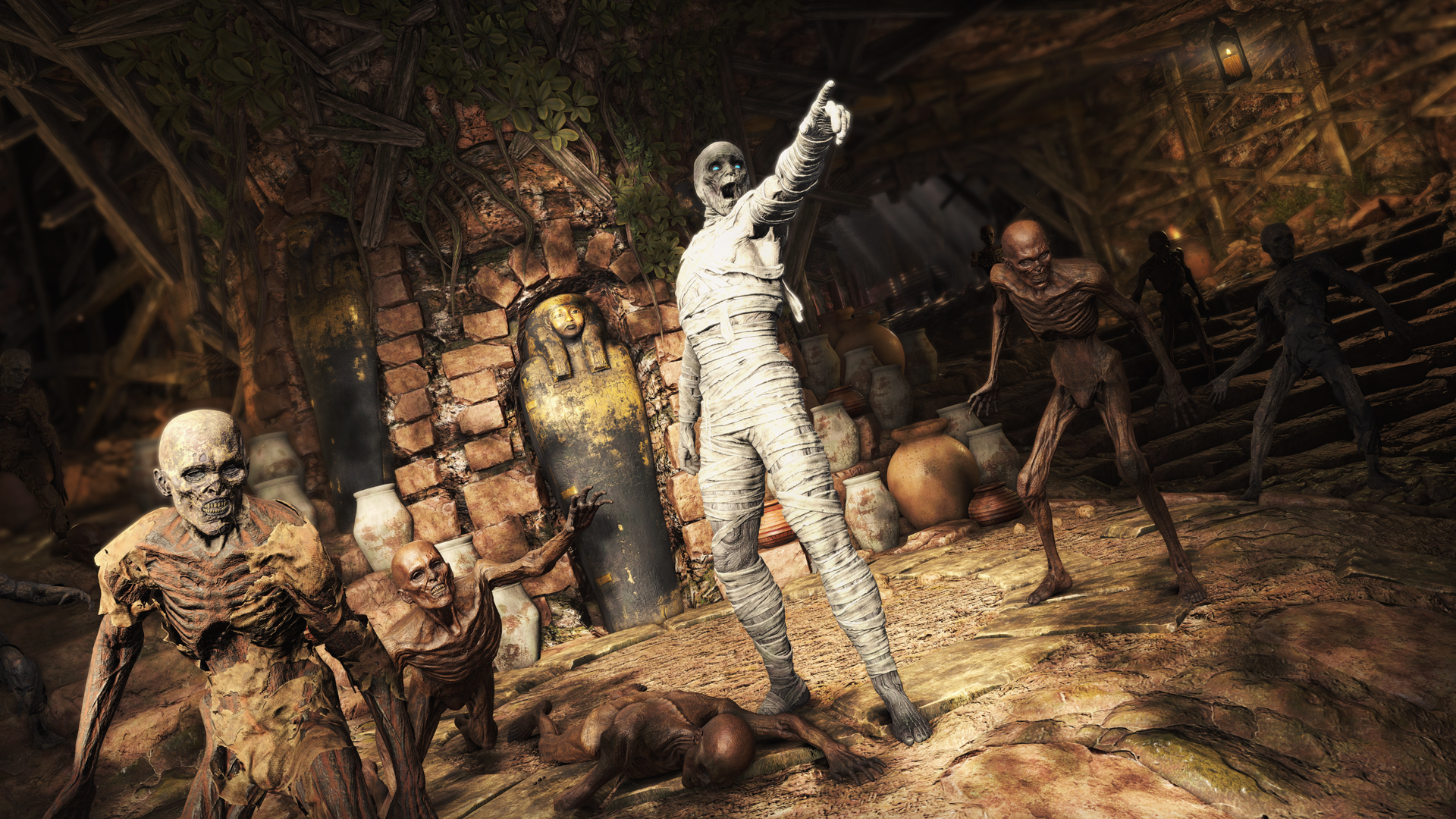 Remember when I said its gameplay is less is more? Well there isn't a huge amount of variety in the game, you move through killing any number of mythological creatures while solving puzzle and collecting treasure. More often than not the game boils down to moving from one arena to the next either solving a puzzle to leave or killing enough enemies to satisfy the soul gate that blocks your path, sometimes both. One really cool thing that helps immensely with the hordes (often 50+) of enemies is the amount of traps you can set off to aid in their destruction. The traps consist of things like giant pendulum blades, spikes from the ground, blow darts, giant saw blades, boulders and the good old fashioned fire to kill everything with.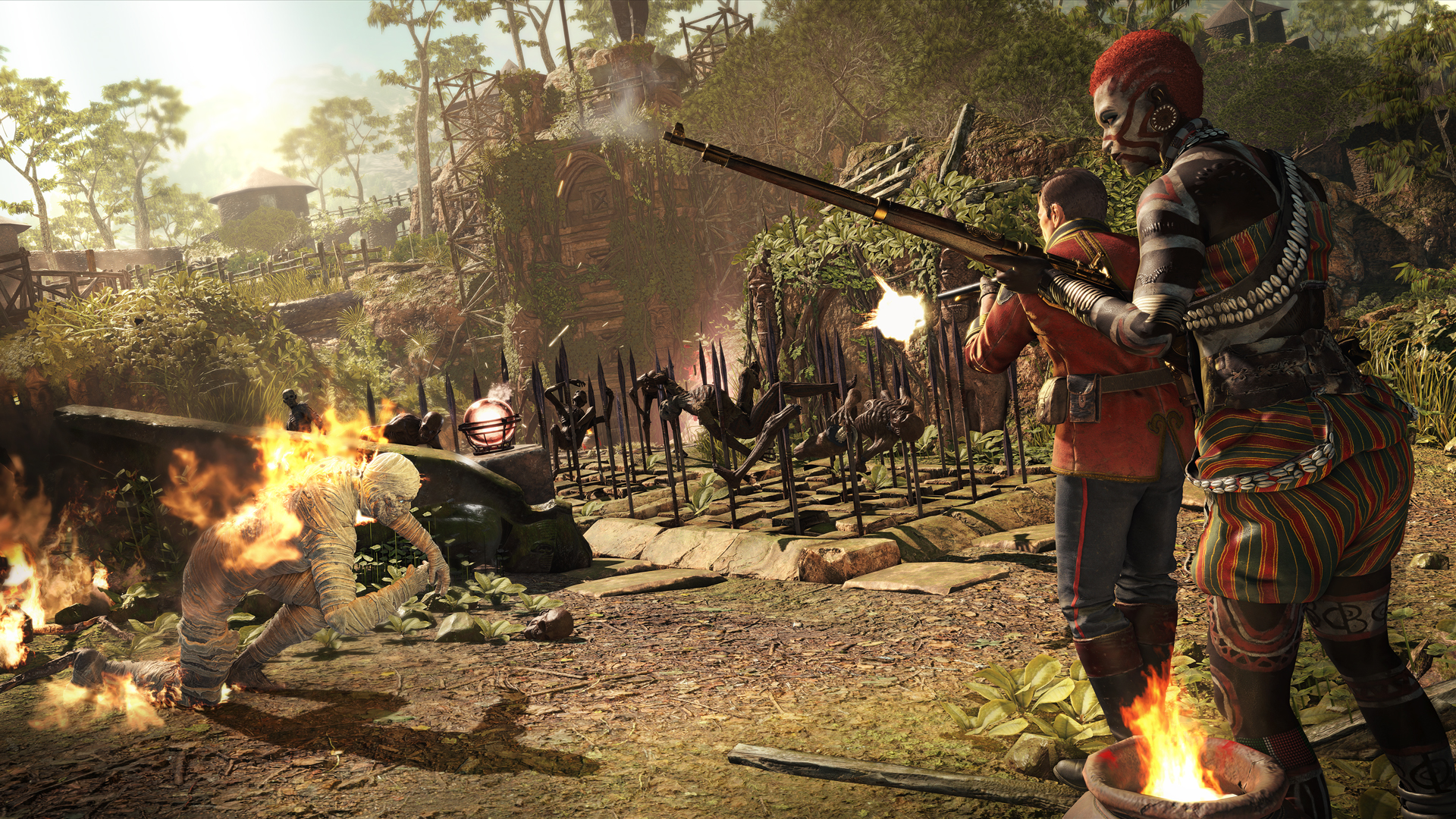 Sometimes less can be more unless its with treasure in which case more is more and this game will give you it in spades. Each level last for roughly an hour and treasure can be found just about everywhere and the collectibles are little crazy. Each level has a bunch of relics which are generally found by solving puzzles, though some levels you will have to hunt down a monster trying to sneak off with one, and when a set is completed you are given weapon upgrades. There is also a bunch of different cats you need to find each level has 6 blue cat statues that will meow when you get close to them, another 4 cat jars which are more sneakily hidden and one golden cat which can only be obtained by shooting the 6 cat statues. There is also countless letters, journals, gold, weapon upgrades in the form of chests and limited use weapons to help you out in a pinch.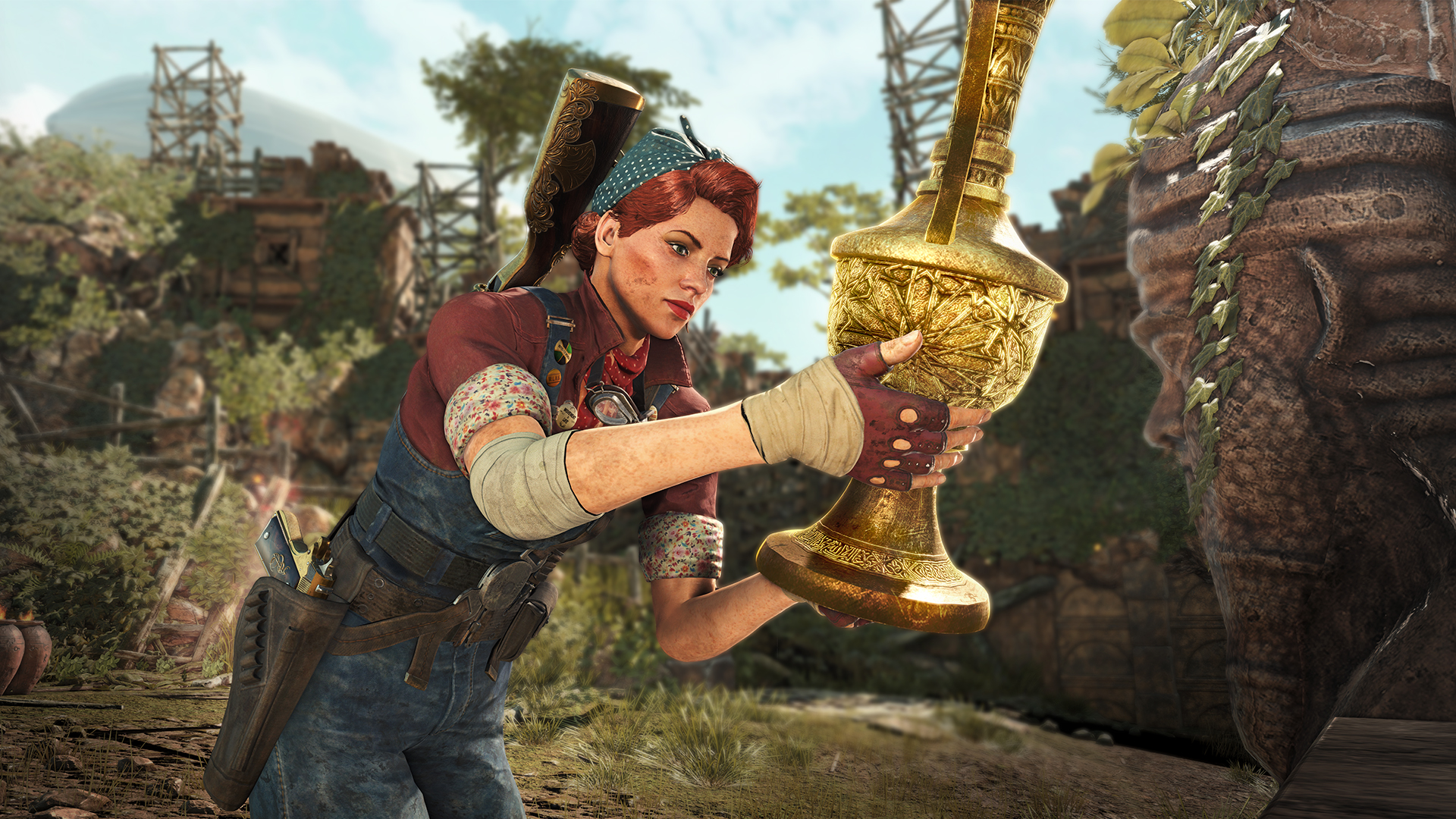 Is this game brilliant? No its far from being the next Left 4 Dead but it isn't trying to be. Strange Brigade is instead choosing to bring uniqueness to the table giving a lovely rich world, brilliant throwback pulpy atmosphere and a more couch level of multiplayer. Left 4 Dead wants you to panic and fight against the odds while Strange Brigade wants you to grab some weaponry, enhance so it can freeze whatever it shoots and do it with some buddies on the couch. If you have some real life friends you can convince to come over with some beer and pizza for a couple of hours to kill you that want filled with a few laughs then this game is aimed at you. It's plain ole dumb fun.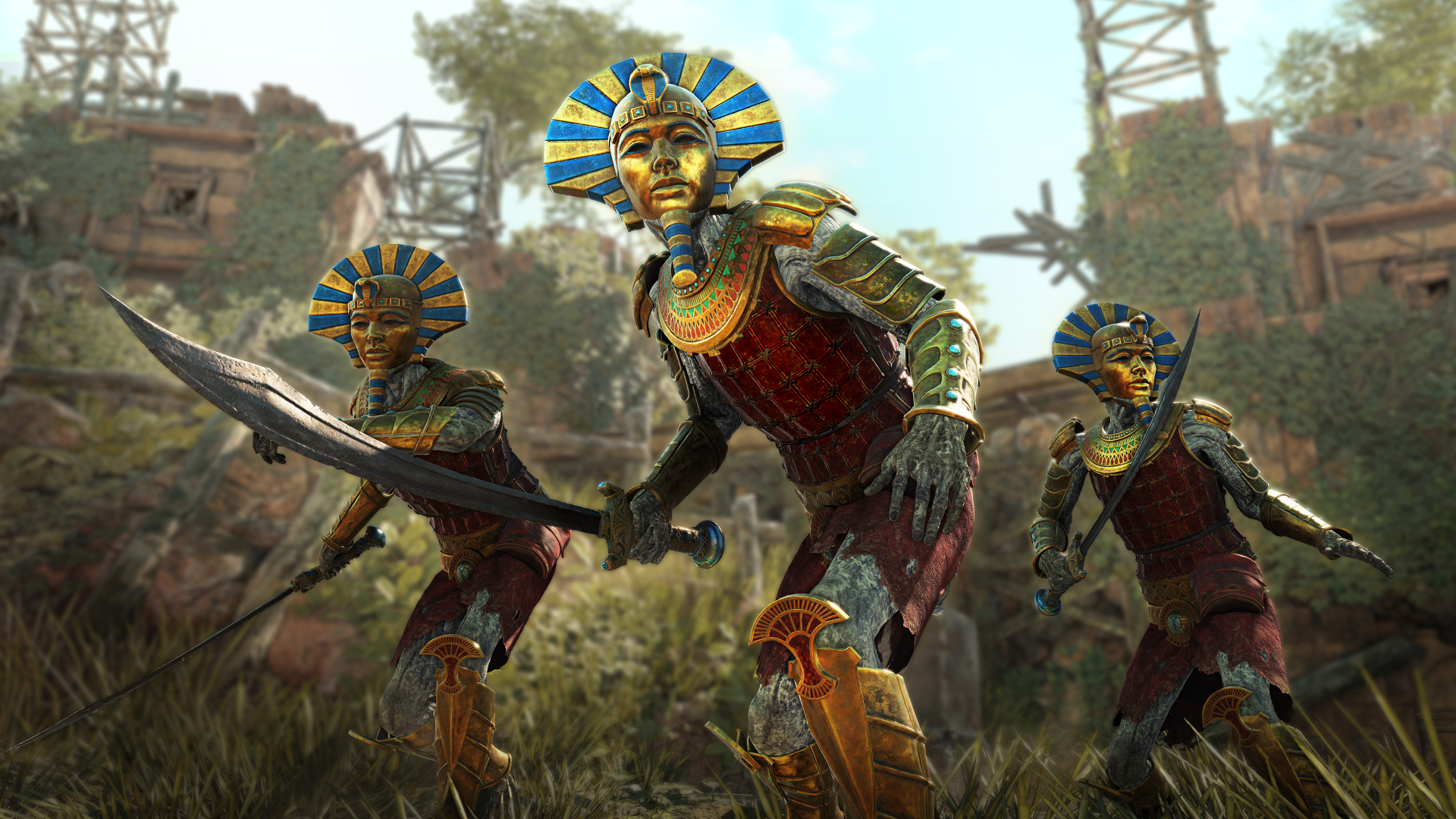 Zombie was provided with a review copy of Strange Brigade.
1

1
Comments (8)