I absolutely love classic game collections.  With a patchy early gaming history, it allows someone like me to play games I hear people talk about, and reliving some of the classics you remember can be as jarring as it is humbling for your inner fanboy or girl.  With Sega Mega Drive Classics, I can relive my memories of Sonic, and check out some of the many classics I missed on the Switch.
I won't lie, playing the first two Sonics on the Nintendo Switch felt so comical after you think about the fierce battle between Sega and Nintendo many years ago, but the Switch is the perfect place to check a gem like this out again.  The old pixel graphics look gorgeous on a small but powerful screen like the one on the Switch, and that holds up for a lot of these classics.
When you boot up the collection you find yourself in a room, with a CRT TV and a Mega Drive plugged in.  On the shelf to the side is the collection of 50 games.  You scroll through them and choose a title which shows a short animation of the cartridge being put into the machine.  At any time you can hold the '-' button to go back to the bedroom so you can switch games on the fly. 
The other major feature to the series is the fast forward and rewind features.  This means you can increase the pace of cut scenes as you see fit, which sometimes you will see fit because it can be a touch slow, and you can rewind when you die for dumb reasons.  How much the rewind feature breaks a game or makes them playable is a dance you need to choose for yourself.  I regularly would forget about the rewind feature until way too late, but if you die for a dumb reason like dated gameplay you can undo this unfairness, or if you want to beat a game, you can undo every death and cheat your way to the end.
The games themselves are dated, as you would expect, but it's a nice snapshot to a different time.  I was finally able to check out the Streets of Rage series I have heard so much about, and after an hour dabbling between the entries, I've played all I needed to of that one.  Same went for the Golden Axe games which are also dated but are still important games.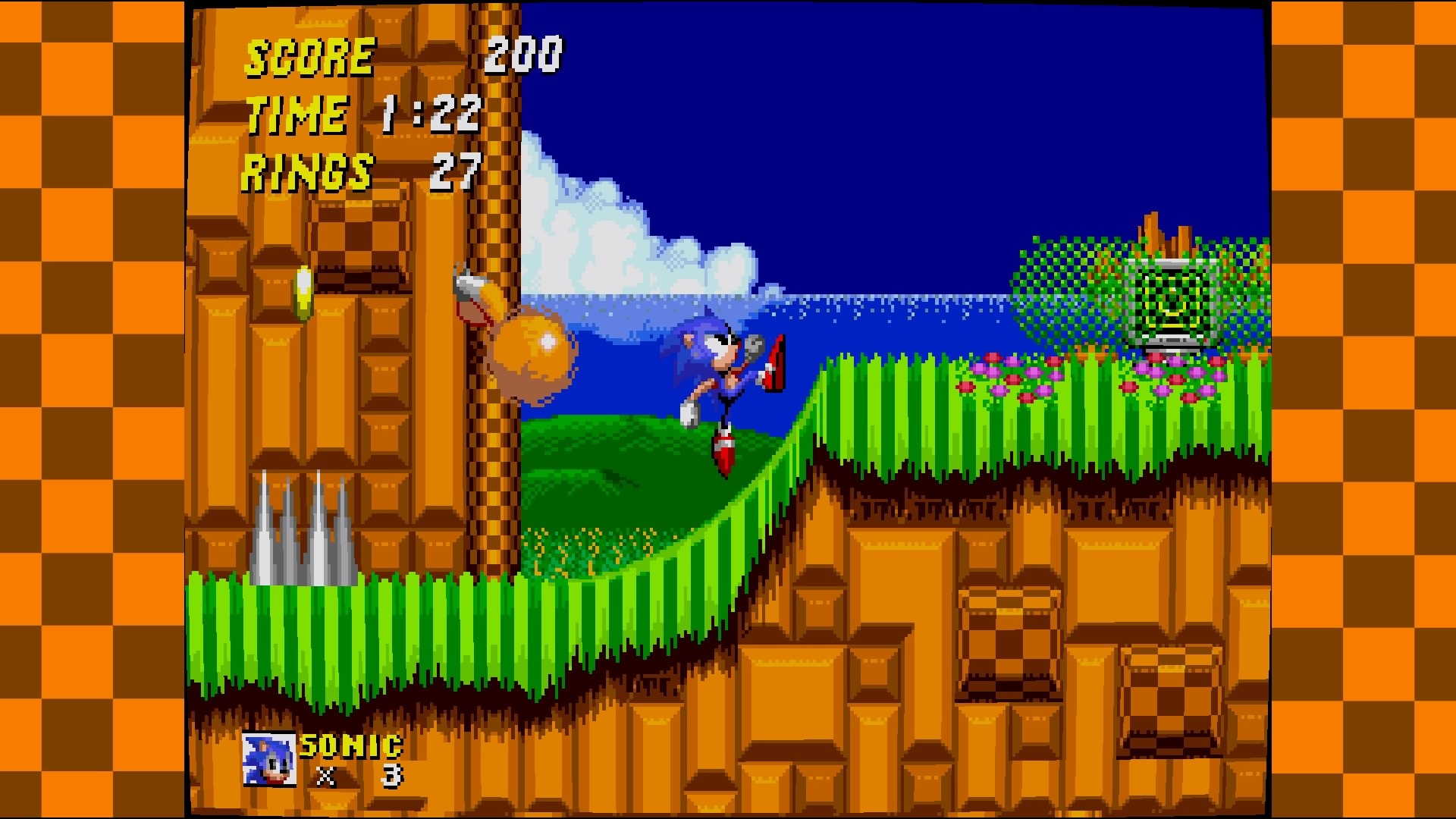 If you want to get value out of the collection there is Phantasy Star 2, 3 and 4 which hold up surprisingly well.  If you like classic JRPGs like the original Final Fantasy titles, then you will be in for a treat with these ones.  The flip side of this is Virtua Fighter 1 and 2, which are both important games, but simple and frustratingly slow.  I may have my finger on the fast forward feature as I played to make this one playable.
I didn't get near checking out the whole collection, because there are 50 games and I have other stuff to do in my weeks, but some surprising gems, for better and worse can be uncovered.  Dr. Robotnik's Mean Bean Machine is a solid Puyo Puyo puzzle game which sunk a surprising number of hours.   Sonic Spinball on the other hand is a weird version of pinball where you need to fire Sonic around through tables, achieving goals and moving on to new tables without dying.  It starts charming but becomes annoying after a while.
The diamond I had never heard of was a little game called Flicky.  This is a simple puzzle game where you jump around a 2D series of platforms collecting all the chicks while avoiding the cats and lizards that spawn and return them to the Exit.  I spent hours jamming this game, hooked on its simple but difficult gameplay loop, until I remembered to use the reverse feature, which kind of broke it.  It's still a gem worthy of your time though.
Sega Mega Drive Classics is a great collection worth popping onto your Switch.  Whether it's to reminisce in days gone, or to learn about the past, there are some gems, and some rough but important titles jammed into this huge collection.
Blair received a code for SEGA Mega Drive Classics for review.
Comments (3)