When it comes to racing games, I am as casual as you can get. I play plenty of them, but never commit enough to get good, so unlike for pros, a game must be interesting early on with minimal learning curves to get to the good stuff for me to pay attention. There are no better casual racing games for someone like me than the Forza Horizon series, and 4 continues to bang it out of the park.
For newbies, or potential newbies, Forza games are split into two series. The first is the Forza Motorsport series which is closer to a simulation racing game, but with arcade elements like the rewind feature. Then there is Forza Horizon.
The Forza Horizon series takes the arcade parts of Forza Motorsport and turns the whole thing into an open world racing game. You drive around a locale, joining events, and selecting specific races by driving to them. They all center around a Horizon festival with big lights, crazy races and a strange but delightful collection of music.
All the classic Forza Horizon series open world staples are back, with barns to be found with rare cars inside, speed traps to be soared past, boards to be found and smashed through in annoying places, plus the jumps to be launched off. These continue to be frustrating and fun. The jumps continue to burn huge amounts of hours as I get hooked trying to get the best distance I can for those three stars, and billboards on top of annoying places continue to be hugely frustrating as the require a level of precision that my usually unnecessarily powerful car makes difficult.
The biggest change to the series is the changing seasons. When you first start the game, the basic campaign takes you through the seasons allowing you to adjust to the conditions and race types that the seasons bring with them. Once you have completed this it all connects to a timer, which encourages continued play in the Horizon world as returning rewards you with changes. One annoyance I have with this is things like barn finds can be seasonal, which is one of those restrictions that feel unnecessary and forced.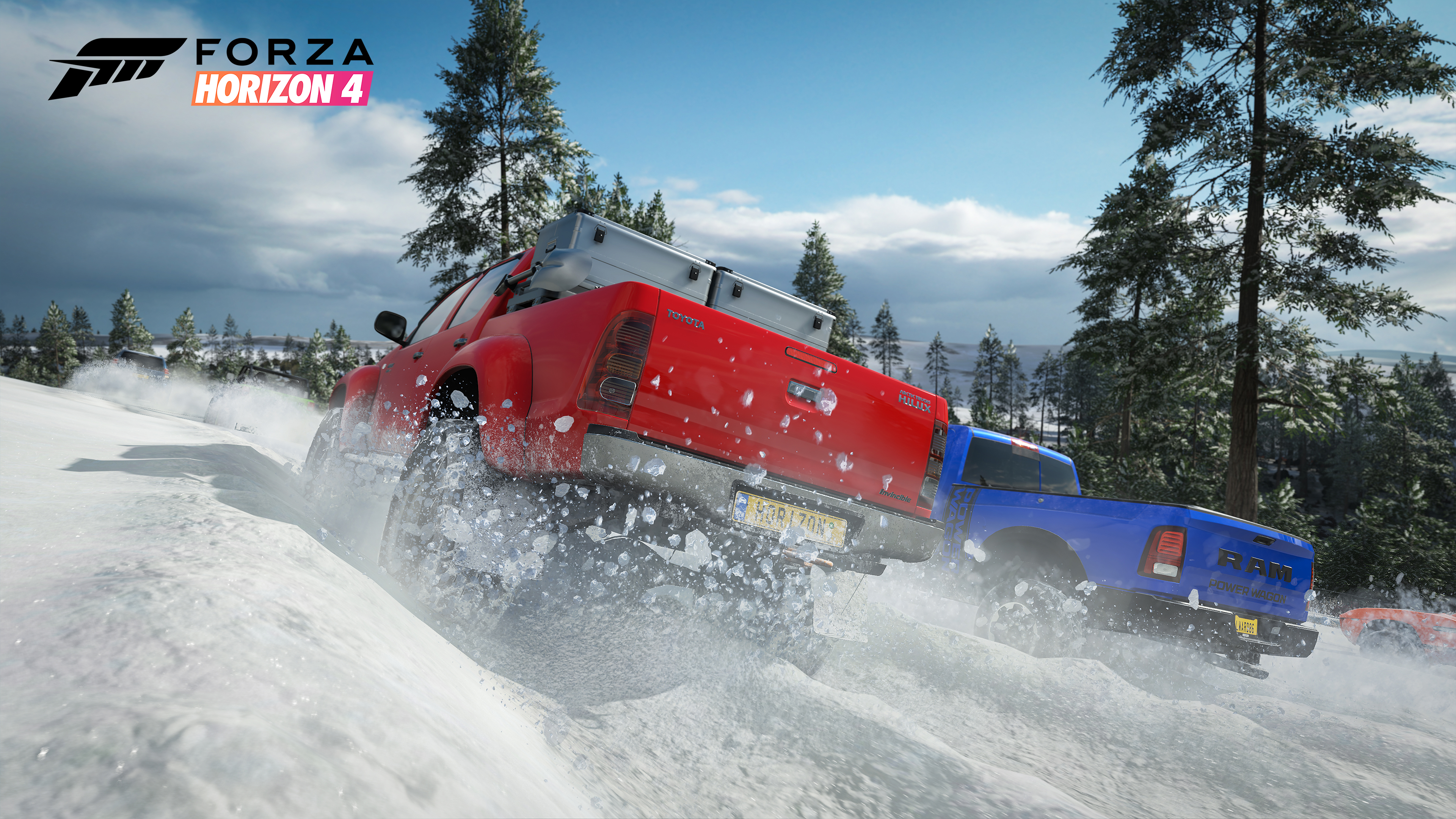 Another welcome addition is Horizon stories, which has a series of story threads which is essentially the old bucket list challenges. These are made more interesting by the small narratives, such my favorite the stunt driver which has you completing challenges in specific cars for a movie company. The light story kept me returning for more on the regular.
The game is based this time in the UK, which like its previous settings continues to look gorgeous and unique. The UK is especially punctuated by small villages, and beautiful old architecture like castles. It's vast size never feels overwhelming because it's so interesting to speed around, though like previous games I spent far too much time sliding sideways through fences and farmland to get the huge point chains, which usually ends by crashing into a less destructible tree.
Once you beat the main story, the persistent online multiplier kicks in which injects other players into your game. You will see them drive around, but they won't ruin your day if you aren't interested because they will ghost through you. That makes even the most annoying players a mild frustration at worst. These random players let you go head to head in short races from the point where you are challenged, which made it easy for me get my ass kicked on the regular. I can't help but accept a challenge so that one's me.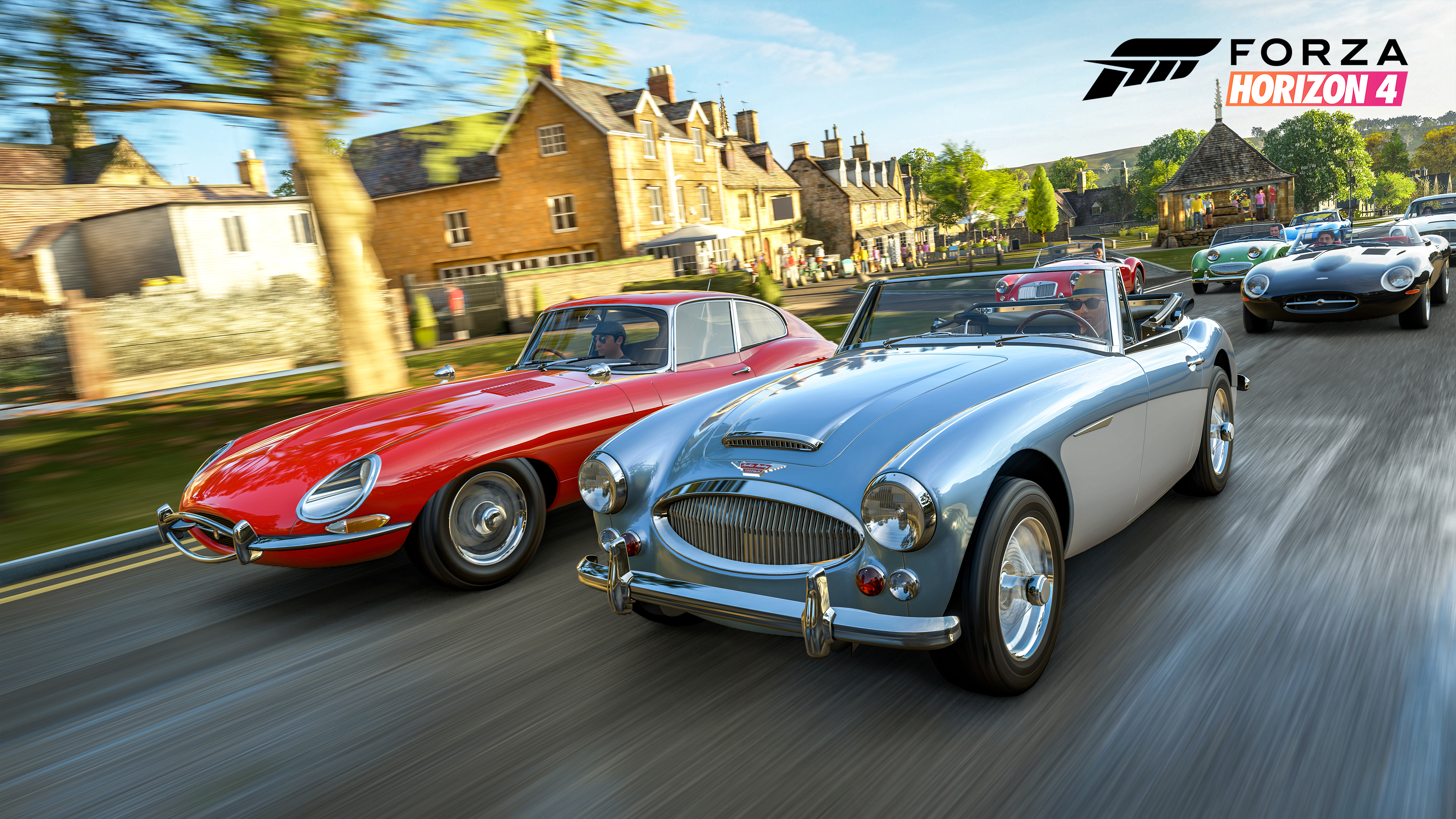 Forzathon is back with all the online events and challenges as before, but Forza Live is a fun addition which takes place every hour on the hour. If you join in basically you and others all work together to get scores, then move on to the next challenge. The goal is to complete as many of those as possible before the timer runs out. If traditional multiplayer is your jam, fun races and games are also available.
Forza Horizon 4 continues to be an outstanding entry in the racing series that is top of the genre in my heart. A beautiful new setting makes for a lot of fun tearing up the countryside, and a few new tweaks to old staples. With the added twist of the seasons should make plenty of fans and newbies happy alike.
Blair was given a copy of the game for review
2

1
Comments (5)